Q&A – Martha Robertson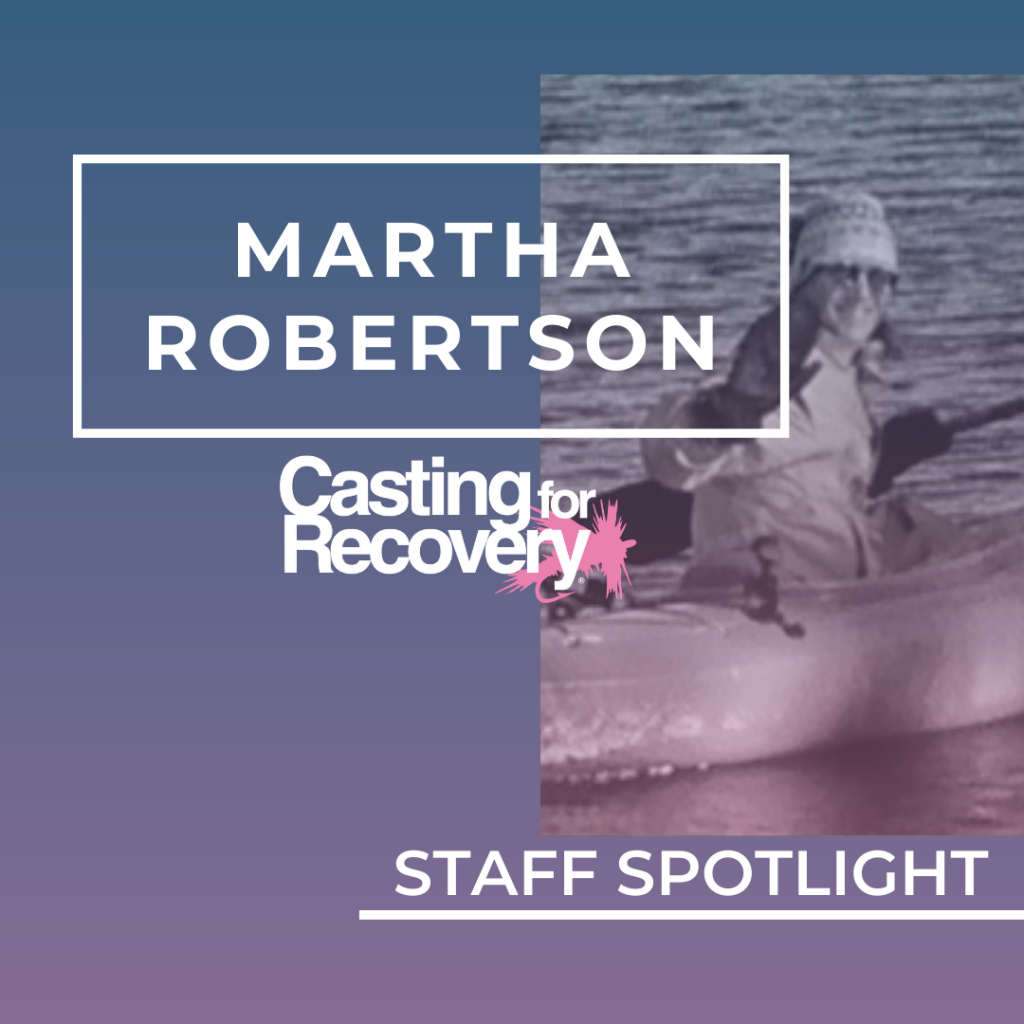 This week we asked National Participant Coordinator, Martha Robertson, questions that relate to her position here at Casting for Recovery. Learn more about Martha, how she discovered CfR and what she loves most about her job.
How did you come to work at CfR and how long have you been on staff?
Though I enjoyed my (previous) job, after being there for ten years I felt a strong desire to make a change, allowing me find work that would have a meaningful impact on the lives of others. In the course of looking up nonprofit organizations in my area, I came across CfR and immediately sent them a letter and resume. To my dismay, they had no openings at the time. However, a few months later, I received a call from the E.D., who had kept my letter, asking me to come in for an interview. The happy ending to my search was in the late fall of 2007, and my new happy beginning of working at CfR was January 2008.
What is your current role at CfR and describe your main responsibilities?
I am the National Participant Coordinator at CfR, so almost anything that has to do with our participants, I will be involved with. Retreats run from March through November, so for me, the shoulder seasons are filled creating applications and information platforms, collating data, and working on other behind-the-scenes framework. When the season is underway, I process all the applications, make the random selections of participants and alternates, notify the women who have applied of their status, and organize the mountains of participant information we receive and disseminate it to the teams in the field as appropriate. My favorite part is that I am in contact with the participants and volunteer participant coordinators—supporting all these amazing women in whatever capacity I can is The Best.
What's a typical day like at CfR for you?
A typical day is that it isn't typical! Most days require flexibility and adjusting. I like to start by trying to answering all the emails that have come in (prompt responses are important to me) and processing new forms. From there, it's a matter of prioritizing and juggling the inquiries, information, and mini projects that come up.
What do you love about your job? Why is that a good fit for you?
I feel so very fortunate that even though it may be remotely, I have the opportunity to be part of a small group of women who collectively are determined, have a strong work ethic, believe passionately in the mission, and (last but most certainly not least) appreciate that laughter really is the best medicine; individually, they are talented, creative, dedicated, and uniquely special. Add to that, the core staff gets to team with an incredibly committed corps of volunteers. As if that weren't enough, we also, at the end of the day, have contributed to a collaborative effort that hopefully will provide an affirmative, uplifting experience for the women we serve.
My job and I fit hand-in-glove, er, hand-on-keyboard—I know what needs to be done on a daily basis and I can plot out the way to effectively accomplish it. I like tasks that have a clear start and finish, yet I am happy to have the variety that the unknowns pepper each day with. I also enjoy the challenge of finding ways to make tasks as efficient and clear as possible (who doesn't like a good puzzle?). But most importantly; I love doing good work with and for good people.
Have you ever attended a retreat and if so, in what capacity?
Massachusetts used to have a retreat on the Cape, and I had the chance to attend in the role of (assistant) hospitality. The weekend was incredibly humbling and profound.
One thing you'd like the world to know about CfR that they may not already know?
More often than not, when someone asks me questions about CfR, and I tell them that there are 1800 volunteers across the country who make the retreats possible, her jaw will drop in incredulity and awe. That is an inspiring statistic!
Encouraging words for a breast cancer survivor?
Though I am not a survivor, like most of us, my life has been closely touched by others who are. But even then, I cannot speak with the voice or in the language of someone who is a survivor. Actually, I would say that at CfR, at least for me, the roles are reversed—it is these thousands of women (participants and volunteers) and their stories that offer encouragement.
My words of recommendation, though, would be that any woman who has a hint of an interest in Casting for Recovery should apply to a retreat. What I have discovered while being at CfR is that it really is possible for someone's life to change in just two and one-half days—that is, one of our retreats can be life-altering for someone who attends. When I first heard that phrase, I thought it was hyperbole, and even now, after all these years, I shake my head in wonderment when I hear participants make this declaration with such heart, gratitude, and sincerity. And that is what brings us right back to the answer in the first question asked here: What brought me to CfR? The opportunity to make a positive difference in someone's life.