Casting for Recovery is grateful to partner with these amazing vendors. A percentage of your purchase of these products will go directly toward CfR programs!
American Laundromat Records
Cinnamon Girl Tribute Album
All net proceeds from CINNAMON GIRL are donated to CfR in memory of Norine R. Spadaro, American Laundromat Records founder, Joe Spadaro's, mother. Tanya Donelly, Britta Phillips, Lori McKenna, Jill Sobule and Veruca Salt are just some of the outstanding artists covering Neil Young's most popular songs on this wonderful album. Features 21 songs, new artwork by Casey Burns, and mastering by Sean Glonek. Available on CD and Vinyl.
onWater
Casting for Recovery is proud to partner with OnWater, a platform that uses modern technology to enhance your fly fishing experience, connect you to local knowledge, and contribute to protecting fish and the habitat upon which they depend. onWater takes a comprehensive list of resources and consolidates them into a simple, intuitive and personalized app to help you learn and relieve the stress of planning a day or week of fishing. For every annual subscription purchased through this link, onWater will donate a portion of the cost to CfR!
SaraBella Fishing

Our pals at SaraBella Fishing are supporting Casting for Recovery with any rod purchase using the code: SB-CfR-75 upon checkout. In checkout notes, mention if you'd like the CfR pink fly decal placed on your rod. SaraBella will build and ship your rod (approximate delivery time is 5 weeks). For each rod sale SaraBella donates $75 to Casting for Recovery!
Thrive Causemetics
Casting for Recovery is proud to partner with Thrive Causemetics! As part of a $25 Million donation made to over 50 non-profit organizations, Thrive is donating thousands of their products to CfR so that our participants can experience vegan makeup + skincare that is sulfate and paraben-free.  For every product purchased, they will donate to help a woman thrive. Shop Thrive Best Sellers.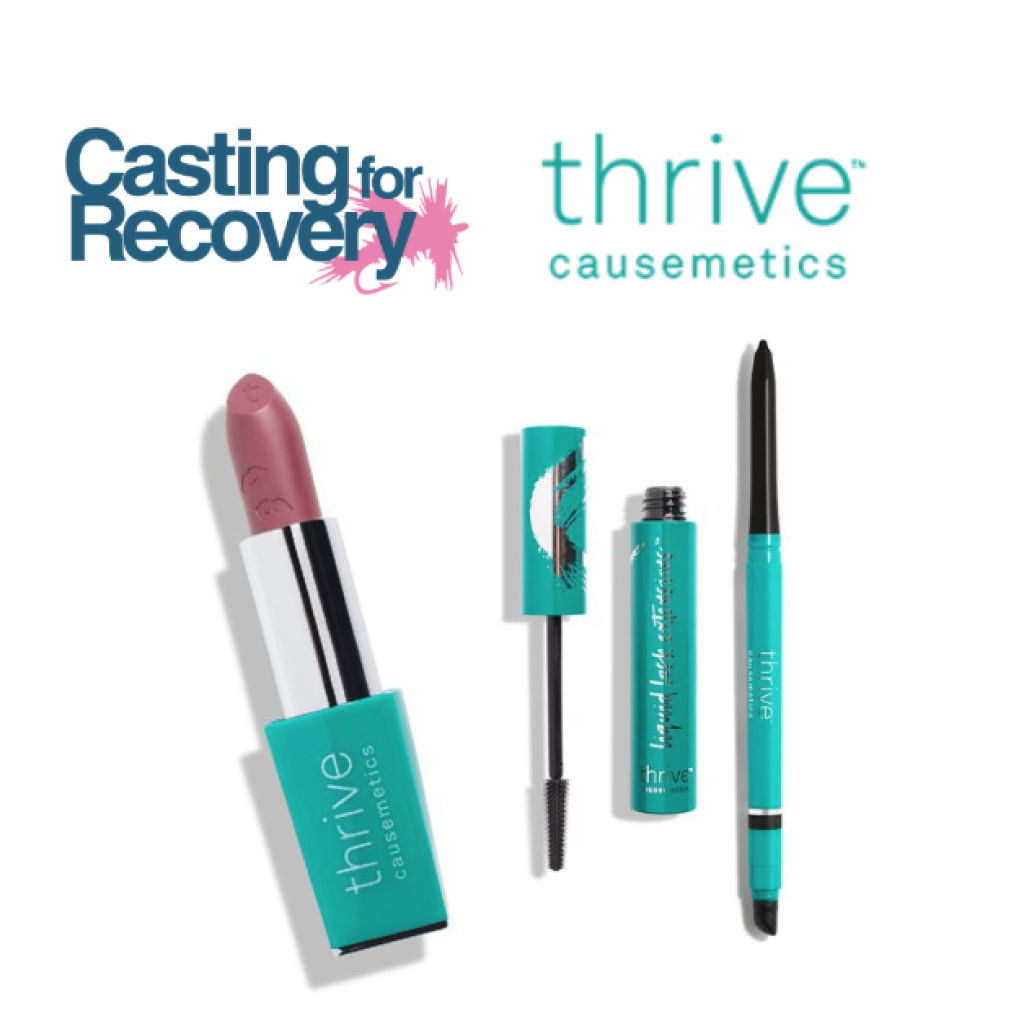 Prove It Products
Prove It Products designs product to help you PROVE to your friends and family that you really did catch that 25″ brown trout. Shop the custom Casting for Recovery Sleeve or Koozie and PIP will give 50% of each sale back to Casting for Recovery. All products are 100% Made in America.
CfR Logo Merchandise
Be sure to check out our selection of Casting for Recovery logo merchandise for sale here on our site.  All proceeds support the program.