Q & A – Faye Nelson
This week we asked CEO, Faye Nelson, questions that relate to her position here at Casting for Recovery. Learn more about Faye, how she discovered CfR and what she loves most about her job.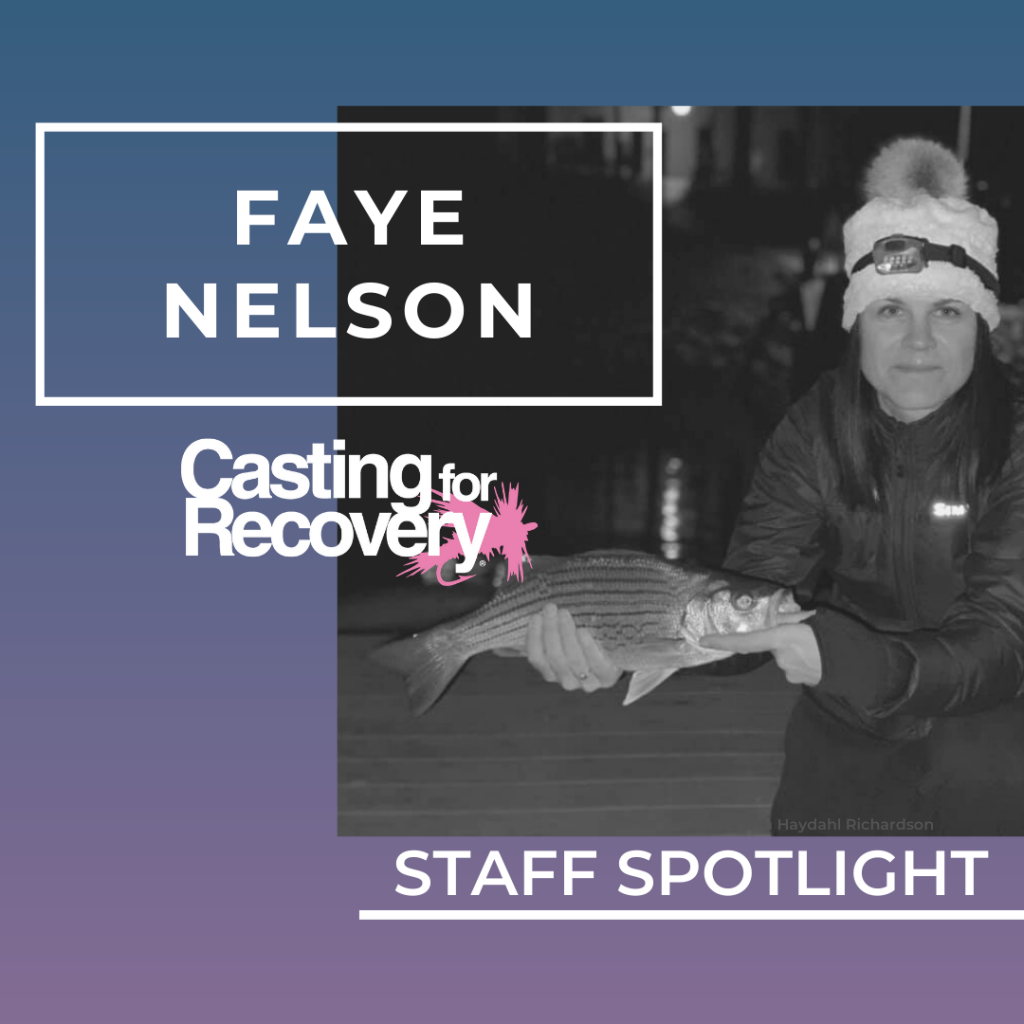 How did you come to work at CfR and how long have you been on staff?
I first came to admire CfR when I was working for an organization that served combat veterans through fly fishing. When Whitney announced she was stepping down as Executive Director of CfR, I was ready for a new opportunity and eager to be a part of connecting women to each other and the outdoors. I joined the staff on January 1, 2020.
What is your current role at CfR and describe your main responsibilities?
I have the great fortune of serving as CEO. My main responsibilities are to implement the strategic goals developed with the Board of Trustees by overseeing the national staff of 10 professionals and managing the day-to-day operations of CfR. This includes fundraising, budget development, evaluating mission impact, etc.
What's a typical day like at CfR for you?
Throughout the week, my mornings are mostly filled with standing meetings of the program, marketing and fundraising staff to ensure we are on-track with our annual objectives. The rest of my day is spent mostly on email and preparing for the next board meeting or board subcommittee meeting to ensure we are on-track with our long-term objectives. I had hoped to spend a lot of time this year traveling to get to know volunteers at the local program level, participants and donors but of course COVID-19 has prevented that.
What do you love about your job? Why is that a good fit for you?
My favorite part, hands down, is hearing from women with breast cancer about how CfR positively impacted their lives. I also love the aspects of the job that incorporate evaluation, analysis, planning and research. Being a partner in the fly fishing industry and national breast cancer community is also fun and inspiring. This job is a great fit for me because I strongly believe in the restorative power of nature and empowering women. In addition, I'm mostly analytical and methodical in my thinking, which seem to suit the job responsibilities well.
Have you ever attended a retreat and if so, in what capacity?
3 words – "Darn You Coronavirus!" It is torture having to wait to attend a retreat until next year but we are all making wise and safe sacrifices this year. Once retreats are back, I want to help in any way possible. Hint: It won't be fly fishing instruction. 🙂
One thing you'd like the world to know about CfR that they may not already know?
There are nearly 2,000 volunteers each year that implement 55 retreats for women with breast cancer. That saves the organization at least $2 million in labor costs annually.
Encouraging words for a breast cancer survivor?
It is clear to me that CfR is a tight community and family. To face any challenge, I believe it takes a village. CfR is a powerful village. If you are a breast cancer survivor my wish for you is to find the courage to find your village, your social support. We are here for you!