(Men)ding Lines – Rob Burlingame
Casting for Recovery's (Men)ding Lines series is back! Each month, we will highlight a male river helper, donor or volunteer who is supportive of CfR. Meet Rob Burlingame, a longtime River Helper for Casting for Recovery Texas who is passionate about both fly fishing and serving women with breast cancer.
–
Tell us about yourself and how you became interested/involved in the sport of fly fishing?
Growing up as an Air Force brat, I got to live in and experience a lot of different areas around the world. Looking back, it was a great experience overall, but there was constant change when moving and learning new areas every few years. One of the constants through all of that time was fishing…it was sort of a comfort zone in that it was a skill that could move with me to the new area. It was also a relaxing way to meet new friends with almost instant bonds. My fishing journey wasn't that unusual, starting with bait fishing and eventually progressing to lure fishing, always looking for that next challenge in the sport. That pursuit of challenges eventually led me to fly fishing. Summer vacations in New Mexico and Colorado only deepened my love of the sport, chasing wild trout in Western streams. That was only the beginning of a lifelong journey that would take way too much space to fully detail. The short version is that I continued to pursue new challenges, started tying my own flies and expanding the range of fish species I pursued. Once I experienced sight casting to coastal species on the Texas flats, that pursuit quickly became an addiction! I started to practice my casting at an OCD level, learned new fly tying techniques, added to and improved my already growing collection of fly fishing gear. Over the next 20 or so years, the sport led me to a great number of adventures and an amazing new group of friends. The adventures continue today from Alaskan salmon fishing and Western streams to farm ponds and local warm water rivers…the rush is still there. As a good fishing buddy of mine likes to say, "The tug is the drug!" I've had the blessing of sharing my passion with my wife and my twin daughters, cherishing every chance we get to fish together as a family and hopefully give them something to create their own adventures as they grow up.
When did you get involved with CfR and what makes you want to return as a River Helper to continually support CfR?
I was first introduced to CfR through our local fly fishing club. Several members of the club were tying flies to donate to one of the retreats. After discussing what CfR was all about and learning about the retreats, I decided to volunteer as a River Helper. What better way to give back than through something you love! That first experience was all it took to keep me coming back the past 15 or so years. There are a number of reasons why I love the experience, but it is difficult to really put into words. The CfR staff are all amazing people that are truly appreciative for the volunteers that show up to help. The other River Helpers are always friendly, generous and great people as well. The friendships you develop just by helping and the fun you have at each of the retreats are worth it by themselves. But the most important reason I keep coming back is the women attending. Every retreat is different and every group of women is unique, but every one of them is a strong and amazing woman with a special story. They all sincerely appreciate and deserve the time we give and you can literally feel the difference it makes knowing that someone took time out of their schedule just to spend the day with them.
What's your memorable experience (with a participant or at a CfR retreat) that stands out in your mind?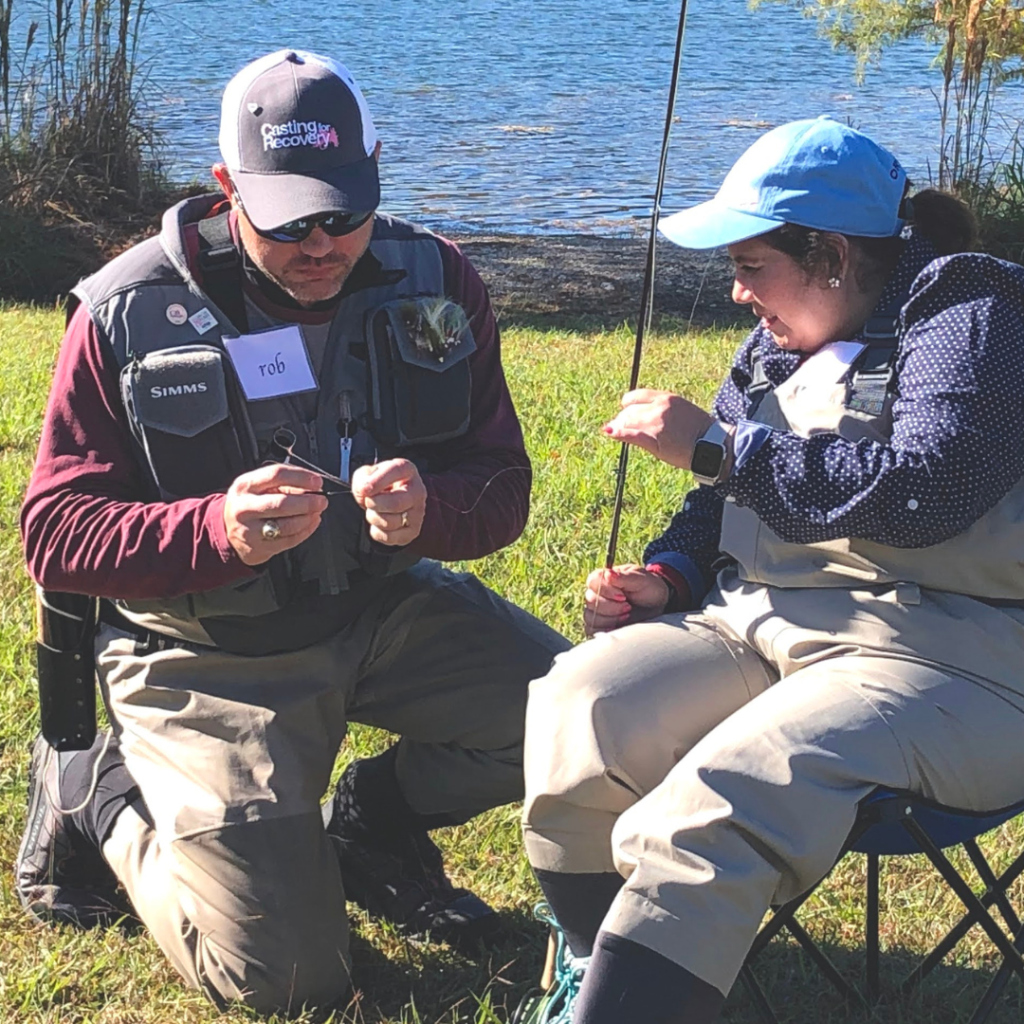 I'm not even sure where to start on this one…every retreat has been memorable in its own right…it's hard to pick just one. Everything from laughing to crying and everything in between. I've seen River Helpers net fish while diving head first into the river…not your conventional method, but he did net the fish! We've had some friendly competitions over who can put their participant on the biggest fish. We've even had to contend with the paparazzi's drones sharing airspace with our back casts. If I had to pick experiences to share, it would be the following two.
The most memorable retreat for me personally was when I volunteered shortly after my mother had been diagnosed with breast cancer. I had been a River Helper for several years at this point, but knew this retreat would feel different. It also happened to be on my birthday, but I tried to keep that part a secret. After all, this was the participant's day, not mine. The participant I was paired with that day was an extremely kind and laid back woman about the same age as my mother. Turned out she had a son about my age, so there was an instant connection. We spent more time talking and relaxing that morning than we did fishing. She somehow asked all the right questions during our conversations. We talked about my mother's diagnosis and she shared her story as encouragement. She also discovered it was my birthday. That meant even more to her that I would "donate" my birthday to spend time with CfR. In truth, that retreat was extremely healing and helpful for me and was perfectly timed with what I was going through. The pollen count must have been pretty high that day because my eyes wouldn't stop watering as I drove home.
My most memorable participant experience ties into the paparazzi comment I mentioned earlier. This time I was paired with a participant nicknamed "Chocolate". She was one of the most enthusiastic and entertaining women I have met in my life. Chocolate was being featured in some sort of story, so there was a film crew following us the entire day…with their cameras, videos and drones. I was always watching out for them, but none of that seemed to matter to Chocolate. She had never been fishing before…she had never waded in water before…she hadn't spent much time soaking in the outdoors…and for once she had someone taking care of her, which rarely happened. It was all new, exciting and adventurous for her. I honestly don't remember if we caught a fish that day…it didn't matter. We had an amazing experience, laughed, cried, talked and hugged…it was her day and she was living it to the fullest!
What words of encouragement would you give to a breast cancer survivor who is hesitant about attending a Casting for Recovery retreat because they don't fly fish?
To start with, I wholeheartedly believe that the retreats have very little to do with fishing. I have spent days as a river helper hell bent on catching fish and other days sitting in a lawn chair and talking…it's really whatever the participant wants to do. If you are up for an adventure, try the fishing…if not, that's okay too. What I can tell you is that after the retreat you will walk away with a group of women that have your back, a group of women that will do whatever they can to help you whenever you need it. You will almost certainly make a group of amazing new friends. I have obviously never attended a full retreat or seen all that goes on behind closed doors, but I have seen the results in the groups of women we help with on Sundays and have seen several women together at other events well after their retreat. I have never once talked to a participant that didn't like the retreat. Most inquiries are met with huge smiles, giggles and full out belly laughs when talking about what the weekend has meant to them. I truly believe the CfR retreats can be life changing events…and who wouldn't want a shot at that?
Do you have a 'lucky' fly that you use on CfR retreat waters?
A group of us used to joke that our favorite fly was "anything olive" since that seemed to be the magic color at one of the retreat fishing areas. In reality, I don't have a favorite fly for retreats. Most of the time, I carry a decent assortment of flies and let the participant choose their favorite. We've fished a few different places over the years and the water conditions always seem to change the flavor of the day. If the participants fly isn't working, we'll keep changing flies until we find something that works. I usually carry a selection of the essentials that have been effective in the past like wooly buggers, marabou minnows, clousers, hoppers and some top water flies. I also throw in a few bright and colorful flies for fun, tied in purple, pink, chartreuse and rainbow color schemes. Looking through a full fly box is always a good way to start a conversation with the participant, which is way more important to me than any fly in the box.