From the Riffle – Diane Bristol
This week we are excited to post another From the Riffle submission. Each month, Casting for Recovery will feature a guest blogger that will share information on who they are, their "home waters" where they fish, how they are connected to CfR and where they would like to see the organization in the next 25 years. Meet Diane Bristol, Sr. Director, Employee & Community Engagement at Simms Fishing Products. Diane discusses her "home waters", and what CfR means to her.
–
Living in Manhattan, Montana, I am lucky to consider anything in a 3 hour vicinity my "home water" – you can draw a radius out 180 miles from my house and there's a good chance that I have a memory of fishing on the water in that zone. And it usually includes my family, our dogs, and probably a friend or maybe a flotilla. Every trip out is different, and not all trips provide opportunity for catching, but I'd rather be on the river tying on yet another version of a caddis to see if that fly will be THE ONE.
I met Gwen Perkins Bogart, co-founder of Casting for Recovery, at an International Women Fly Fishers event in Baja, Mexico around the time that she and Dr. Walton were developing the original CfR model. As far as I could tell, it was the first program of its kind and the first to support women during a scary, life-changing time by connecting them to fly fishing and the outdoors. Through my role at Simms Fishing Products, I would provide products to support fundraising efforts. As the program evolved, we [SIMMS] started offering fun, limited edition product during October in recognition of Breast Cancer Awareness month with profits directed to CfR. That turned into a larger initiative that allowed SIMMS to become a National CfR Sponsor and for SIMMS and CfR to collaborate throughout the year on creative promotions to broaden awareness of CfR.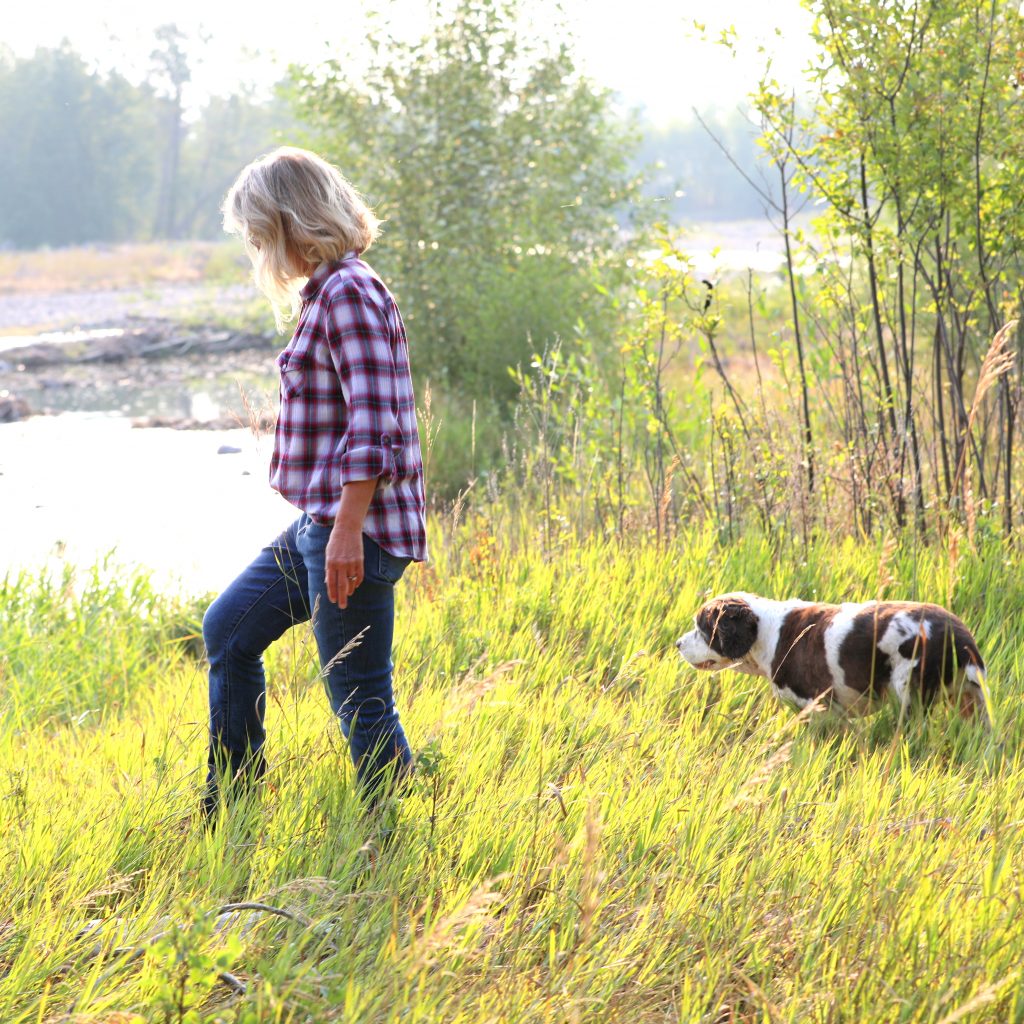 I stepped up my personal involvement with CfR in 2019 when I volunteered for a retreat in Colorado. Of the 22-ish women (14 participants and 8 volunteers) and half a dozen fly-fishing guides, I casually knew one of the other volunteers – Regional Program Manager, Jen Lofgren. From the minute I met the volunteer team, the rest of whom did know each other through previous retreats and friendships, I was embraced like family. If that was any indication of how the participants feel during the retreat, I could understand why CfR has been such a success. Well, it was and it is. I had planned to volunteer for another Colorado retreat in 2020, which obviously didn't happen, and now I'm looking forward to seeing this awesome group of volunteers this October to help with their second retreat of 2021.
At the beginning of 2020, I was invited to serve on the Board of Trustees, which is a great honor. I was so excited to meet the staff and other Trustees in Bozeman this July – in person after a year of virtual board meetings – and all of them are the kindest, most thoughtful, and FUN people. They feel like longtime friends.
It takes a lot of guts for women with a breast cancer diagnosis to sign up for this program. They usually don't know anyone, they probably haven't fly fished before, and they may not feel like talking about their diagnosis, let alone spend the weekend with 13 other women in the same boat, metaphorically speaking. I have tremendous respect for these women and the volunteers that are committed to creating an environment that allows each participant to lean into a CfR retreat on their own terms. During my volunteer experience, I saw women letting go of weeks, months, maybe years of anxiety. For that weekend, they were in the moment and we were there to support them and celebrate with them. My favorite memory from that weekend was the smiles – giant grins without any baggage!
There's so much opportunity for CfR to build on an already successful program. At the end of a retreat program, it's amazing to see participants ask to be added to the volunteer list. That's the ultimate satisfaction rating. I know that the staff, Board of Trustees, volunteers, and participants across the country will continue to push the organization to serve more women and in a deeper way, beyond one weekend retreat. I'm excited to contribute as much as I can to help with the evolution.