Casting for Recovery named 2017 'The One Hundred' Honoree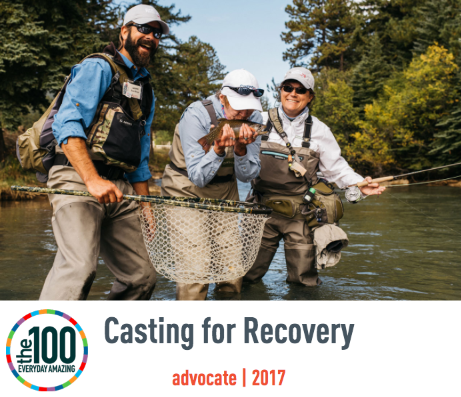 Created and supported by the Massachusetts General Hospital Cancer Center, the one hundred is an awareness and fundraising initiative celebrating hope within the cancer community.  Since 2008, the one hundred annually honors 100 Everyday Amazing individuals and groups, being caregivers, researchers, philanthropists, advocates and volunteers from around the world — whose commitment to the crusade against cancer inspires us all to take action.
Thanks to our loyal supporters and volunteers, nominations came pouring in from around the country, nominating Casting for Recovery for its work as an advocate for women with breast cancer.  This year, CfR will hold 55 retreats in 44 states, including new pilot programs serving female disabled military veterans, women of color including Native American women, and women with Stage IV (metastatic) breast cancer. Plans are already in the works for 2018 and beyond for more specialized program development to meet the diverse and changing needs of women with breast cancer.
On Wednesday, June 15th, Casting for Recovery was recognized at the Westin Boston Waterfront Hotel as a 2017 the one hundred honoree. The evening was filled with love, laughter and and tears.
"It was a privilege to be recognized," says Whitney Milhoan, CfR Executive Director, "We're so humbled to be part of such an inspiring and dedicated community."
To learn more about CfR, click here to watch the feature video that premiered at the one hundred gala in Boston, MA last week.