Casting for Recovery Holds Inaugural Retreat for Native American Women with Breast Cancer
Native Americans face alarming inequities in cancer incidence and mortality

Austin, TX—July 26, 2017—Casting for Recovery (CfR), a national nonprofit organization providing free fly fishing retreats for women with breast cancer, announces its first retreat exclusively for Native American women. Native American women face numerous cultural and economic barriers to cancer care. By providing support, education and resources, CfR hopes to improve the quality of life for Native American women, creating a ripple effect for health in their communities.
The retreat will be held on October 13-15, 2017 in Tahlequah, OK. Native American women who reside in Oklahoma and have received a breast cancer diagnosis are eligible to apply. Up to 14 women will be randomly selected to attend the retreat at no cost. The deadline to apply is August 11, 2017.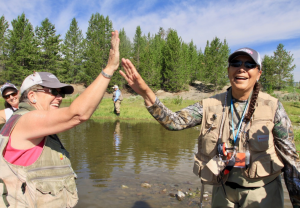 The CfR program empowers women with educational resources, a new support group, and fly fishing, which promotes emotional, physical, and spiritual healing. For more information or to apply for this retreat, visit our webpage HERE or call Susan Gaetz at 512-940-0246.
Casting for Recovery® (CfR) is a 501(c)(3) nonprofit founded in 1996 featuring a unique program that combines breast cancer education and peer support with the therapeutic sport of fly fishing. Their retreats offer opportunities for women to find inspiration, discover renewed energy for life and experience healing connections with other women and nature. CfR's retreats are open to women of all ages, all stages of breast cancer treatment and recovery, and are free to participants.
For information or to learn more: https://castingforrecovery.org/