Q & A – Tiffany Greene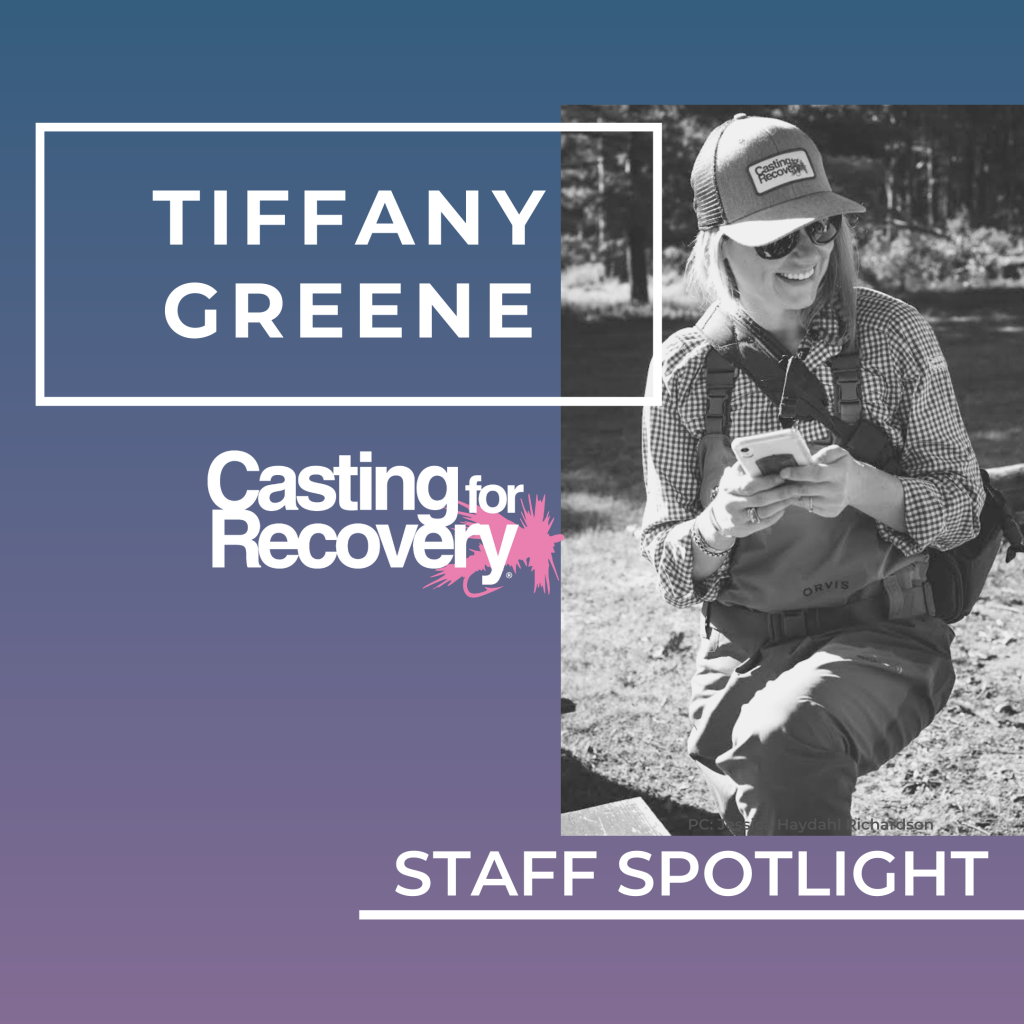 This week we asked Marketing Design Manager, Tiffany Greene, questions that relate to her position here at Casting for Recovery. Learn more about Tiffany, how she discovered CfR and what she loves most about her job.
How did you come to work at CfR and how long have you been on staff?
I joined the Casting for Recovery Team in the Fall of 2013. Prior, I was working at an elementary school serving children with IEPs, grades K-6, and moonlighting at a jewelry store (which helped fulfill my love and appreciation of diamonds and pearls). I discovered a Casting for Recovery ad in a local paper and applied for the Program Department position, if not for anything else, it could be chalked up as interviewing practice.
Post interview, I did additional research on this national 501(c)3. I knew the mission was both healing and powerful. It's important to note that months prior to applying for the position and a day after celebrating my 30th birthday, I received a BRCA1 diagnosis. Because of that diagnosis, I felt connected and compelled that my skill set could contribute to the existing goodness of Casting for Recovery. I was hired by the former Executive Director, Whitney Milhoan, and the rest is history!
What is your current role at CfR and describe your main responsibilities?
My official title is Design Marketing Manager. I provide graphics for and manage social media channels (Facebook, Instagram, Twitter, Pinterest, LinkedIn) and our blog. I work directly with our Marketing Director, Lise Lozelle, on all digital and print projects and campaigns (think brochures, advertisements, posters, appeal letters and events such as trade shows and our coveted Cast One for Hope event). I also aid in managing our website and online store, providing fresh fun Casting for Recovery merch! Included in this position like all positions at CfR, there are many other smaller duties as assigned.
What's a typical day like at CfR for you?
I start by running the social circuit. I try my best to keep up with any inquiries or comments that have come through any social media platforms. Lots of positive affirmations and emojis on my end. I watch analytics on each platform to gauge the connection of its constituents. One may not guess that different genders and age groups follow CfR on different platforms. In this position, I've learned analytics do not lie!
There is always a project brewing in the Marketing Department. Sometimes it's the promotion of a partnership/collaboration, a campaign for a special day or month and throughout the year we offer up some raffles supporting CfR with sweet prizes.
What do you love about your job? Why is that a good fit for you?
Working for Casting for Recovery is just pure goodness. Our national staff members and the 1,800+ volunteers are some of the BEST beings on Earth. Working to serve CfR is an incredible opportunity and honor.
Have you ever attended a retreat and if so, in what capacity?
I attended the 2014 Maine retreat as a part of the hospitality team and as a national staff member. It was the first time I was able to experience and see the magic of our mission. Last year I attended the Long Island retreat. The fishing location at Connetquot State Park was just INCREDIBLE!
One thing you'd like the world to know about CfR that they may not already know?
Paid staff and volunteers work tirelessly to host special events and functions to then fund and staff the 2.5 day CfR retreat experience. Our nationwide retreats are FREE of charge to participants. Part of the magic is this type of unique healing cannot be bought.
Encouraging words for a breast cancer survivor?
No matter how difficult things may be, always try to find a silver lining.