Q & A – Lise Lozelle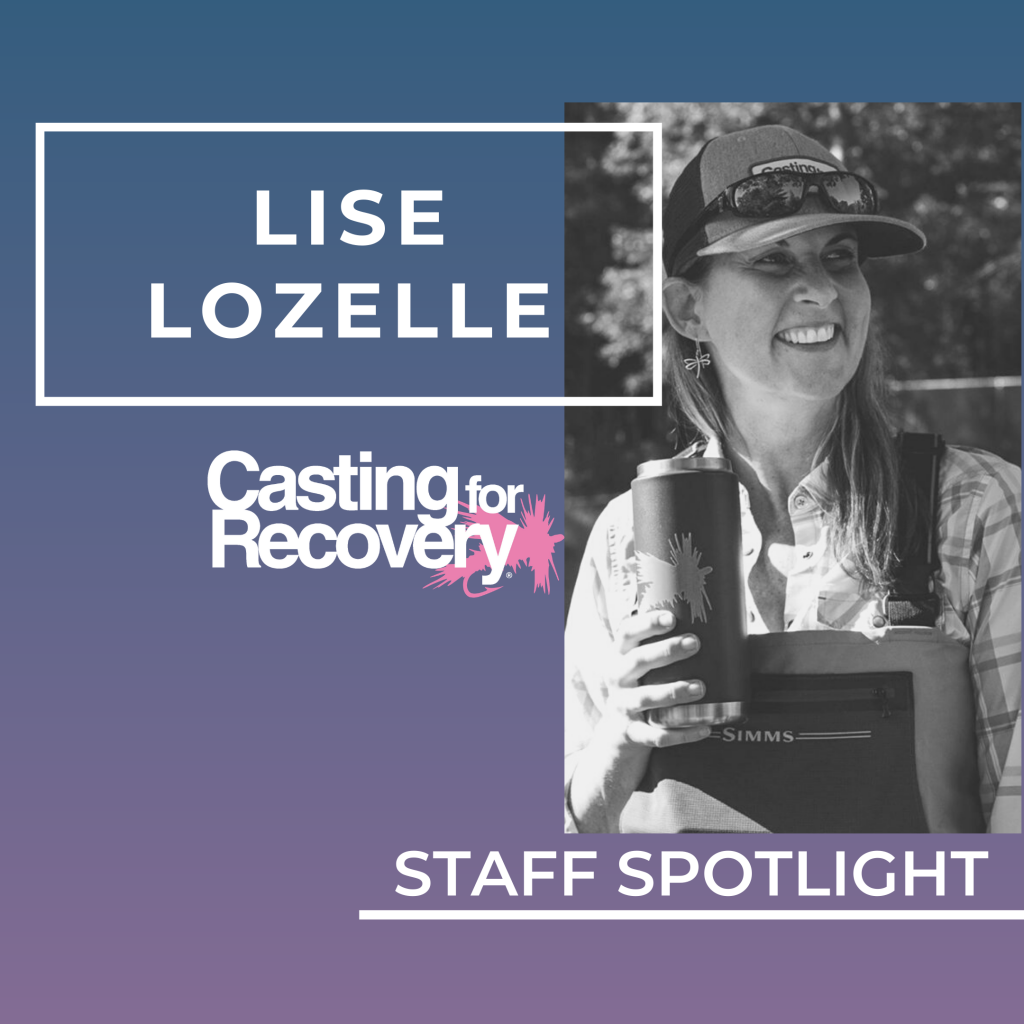 This week we asked Marketing Director, Lise Lozelle, questions that relate to her position here at Casting for Recovery. Learn more about Lise, how she discovered CfR and what she loves most about her job.
How did you come to work at CfR and how long have you been on staff?
Fly fishing and friendship are what lead me to Casting for Recovery. In 2012 I launched Maven Fly, a women's outdoor apparel company. Along the way, I reached out to CfR with some partnership ideas and ended up finding a kindred spirit and great friend in Whitney (former CfR Executive Director). A conversation about givebacks and logo designs eventually led to project work and then in 2017 I joined the team full time.
What is your current role at CfR and describe your main responsibilities?
I am the Marketing Director and responsible for all things branding. Everything from logos to fundraising including the strategic brand vision, national sponsors and partnerships, events, breast cancer awareness month, newsletters and more.
What's a typical day like at CfR for you?
There is no typical day for me, which as an entrepreneurial, creative spirit is perfect! For years I've tried to start my day with meditation but instead most days I kick things off with good intentions, caffeine and a BIG to-do list.
What do you love about your job? Why is that a good fit for you?
I am beyond grateful to work with such an amazing group of women that are dedicated and passionate about helping others. Brand building is an obsession and I dig it all, from inception to brainstorm to execution. Creatively connecting people to CfR and building a community that supports women with breast cancer is a challenge and I love the work.
Have you ever attended a retreat and if so, in what capacity?
I started attending retreats as a River Helper in Texas before I ever worked for CfR, then joined the fly fishing team and still volunteer my time. I also have the privilege of attending other retreats across the country for work, to capture the magic of CfR for our brand videos, photo assets and special projects.
One thing you'd like the world to know about CfR that they may not already know?
If I am doing my job, the world should know the magic of CfR! In case they don't read or aren't on social media… Did you know that CfR is run by a dedicated army of volunteers 1800 strong, started almost 25 years ago and has introduced over 10,000 women with breast cancer to the healing power of nature? And we serve women of any age and in any stage of treatment or recovery at no cost. If you know someone that would benefit please encourage them to apply in 2021!
Encouraging words for a breast cancer survivor?
It's hard to imagine but a weekend can change your life, connecting you to women that understand and nature that you didn't know you needed. Take a chance and apply.