(Men)ding Lines – Justin Rannick
Casting for Recovery's (Men)ding Lines series is back! Each month, we will highlight a male river helper, donor or volunteer who is supportive of CfR. This month we feature Justin Rannick, who volunteers for CfR Georgia. Learn more about Justin and why volunteering for CfR brings him such Joy!
Tell us about yourself and how you became interested/involved in the sport of fly fishing?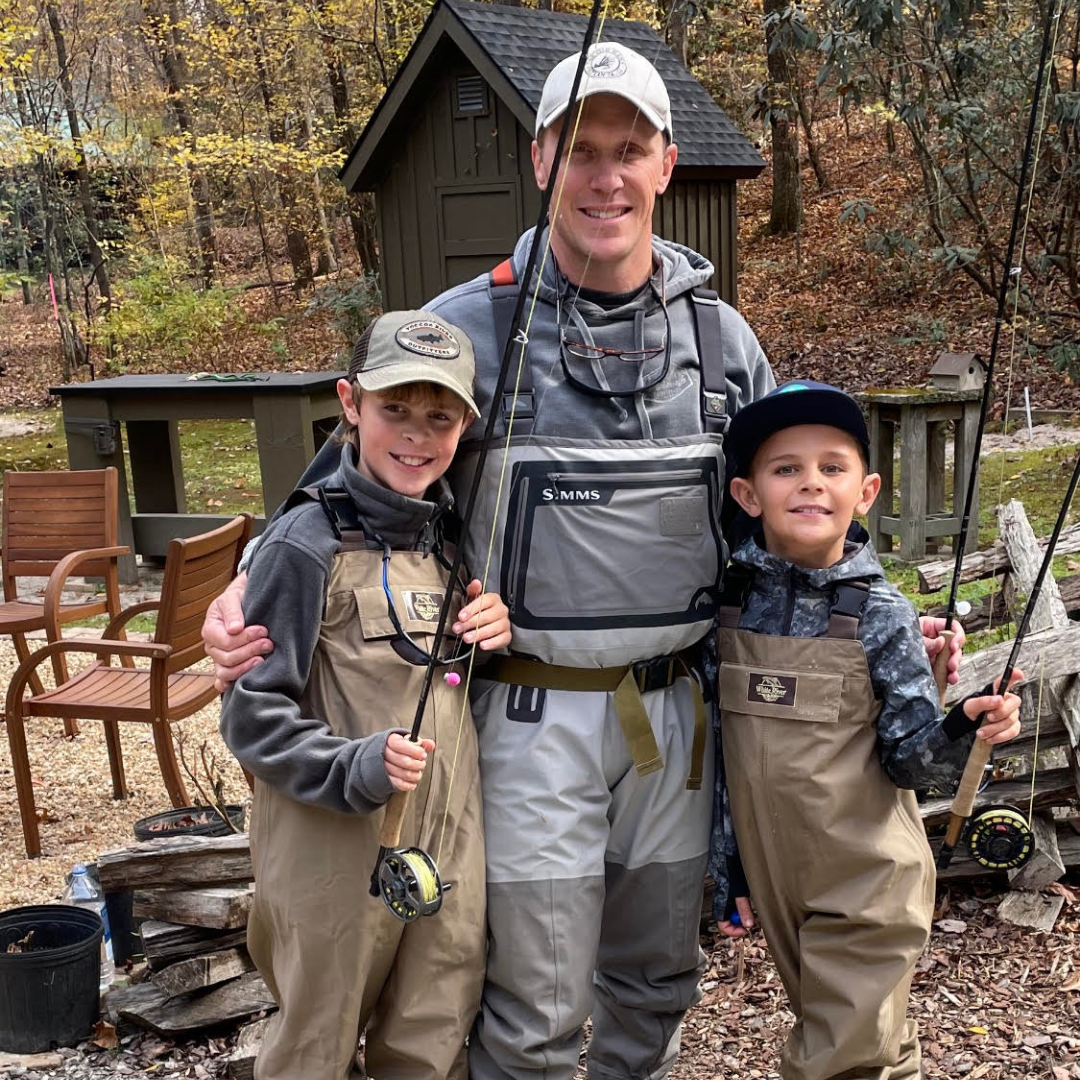 I live about an hour north of Atlanta outside of Canton, GA, with my two young boys (9 yrs and 12 yrs, pictured right) and black lab named Dash.  I graduated from Georgia Tech in 2001 and have been working in the construction industry with a large general contractor around Atlanta since then.  I have always enjoyed the outdoors and began fishing when I was very young with my dad and brother.  My grandad lived in northeast Tennessee and was an avid fly fisherman.  He encouraged me to give it a try when I was a freshman in high school, and I was immediately hooked.  I learned to fly fish with him on the Watauga and South Holston rivers in Northeast Tennessee.  We fished those rivers year around, long before they received the pressure and crowds they do today.  When I went to college at GT my friends and I would spend Wednesday nights at fly tying classes at The Fish Hawk and skip class on a regular basis to try a new stream in North Georgia.  I had Jimmy Jacobs' book "Trout Fishing in North Georgia".  My friends and I would pick a new stream from the book each week and see where the adventure would take us.  Those are wonderful memories.  Now, I enjoy traveling to fish out west with my brother and teaching my boys to fly fish on the same GA and TN rivers I grew up fishing.  My brother and I fished Cast One for Hope on the Bitterroot in 2019 and had a blast.  We met some wonderful people on that trip (Hey Peg!).
When did you get involved with CfR and makes you want to return as a River Helper to continually support CfR?
I lost my wife in January 2018 after a long fight with breast cancer.  I had known about Casting for Recovery from being around the sport of fly fishing, but never looked into it.  After she passed away, I began doing some research on CfR and thought it would be a great opportunity to support women going through their own fight while also starting my own healing process.  I reached out to Bev and attended my first retreat in the fall of 2018.  I met some amazing women and river helpers (some men who were on the same journey I was on.)  CfR has made such a positive impact on my life.  I'm forever grateful.  Now, I help with fundraising and work as a river helper as much as I can.
What's your memorable experience (with a participant or at a CfR retreat) that stands out in your mind?
My most memorable experience is probably my first retreat in October of 2018.  I was not the guide but was paired with a participant to make sure she stayed safe and comfortable.  The day on the water finished with her making a roll cast under a brushy bank on Nacoochee bend to a fish she could see…and the fish ate!  It was awesome to see her reaction and a great way to end the day.  But I remember the conversations more than the fish.
What words of encouragement would you give to a breast cancer survivor who is hesitant about attending a Casting for Recovery retreat because they don't fly fish?
I would say it's not about the fishing, it's about the fellowship.  But the fishing is a huge bonus!  I don't think I've ever met a participant that has come to a retreat with much, if any, fly fishing experience.  From what I have witnessed all participants have fun, catch fish, and gain a lot of confidence by attending a retreat.  The group leaders and instructors do a fantastic job!
Do you have a 'lucky' fly that you use on CfR retreat waters?
The purple haze stands out to me when thinking of CfR.  My brother and I caught a ton of fish with it at Cast One, in the middle of an early season snowstorm in Hamilton, MT.  We surprised ourselves and kept the same fly all day! As far as North GA goes during the retreats, we seem to always have luck with your standard nymph patterns with a little flash to them.  Presentation seems to be more important than the exact fly used.