(Men)ding Lines – Comer Hobbs
Casting for Recovery's (Men)ding Lines series is back! Each month, we will highlight a male river helper, donor or volunteer who is supportive of CfR. Meet Comer Hobbs, a longtime River Helper who is passionate about both fly fishing and serving women with breast cancer.
Tell us about yourself and how you became interested/involved in the sport of fly fishing?
I'm originally from northwest Georgia and bought my first fly rod from a friend in 1990 to fish for bass and bream in the golf course pond across the street from my house. In the summer of 1993, I landed a job working at the 4UR Ranch outside of Creede, CO and it literally changed my life. Fly fishing is the most addictive thing I have ever done.
When did you get involved with CfR and what makes you want to return as a River Helper to continually support CfR?
I started visiting Conway, AR in the late 90's for work and met a guy there who was into fly fishing. We hit it off and became lifelong friends (he was the best man in my wedding). I met his mother, Suzy Ward, at that time and for the entire time I knew her (about 7 years) she always had some form of cancer. Suzy never complained and was one of the happiest and nicest ladies I have ever known. She passed away in February of 2007.
Shortly after that, Suzy's son, and grandson signed up for a CfR fishing derby in Indiana. I pledged to pay a certain amount of money for each fish that they caught. Weather was horrible, no fish caught and not much money was raised.
When I was living in Connecticut, I mailed a letter to CfR Headquarters (once based in Manchester, VT) requesting to become involved in the organization. All I ever received was pledge envelopes asking for money. Finally, I sent one of those back (empty) with, "I want to donate my time." Shortly after I received a call from National and I became River Helper with CfR CT.
After one retreat, I was TOTALLY hooked on the organization – what an amazing experience – despite only catching a small black nosed dace on the fly. At that retreat I also was fortunate enough to meet Peg Miskin, CfR's former National Program Director. I ended up volunteering to find River Helpers each year for the CT retreats. Luckily one of the River Helpers had a bass pond on his property. The next year we relocated the fishing portion of the retreat to the pond and it was a hit!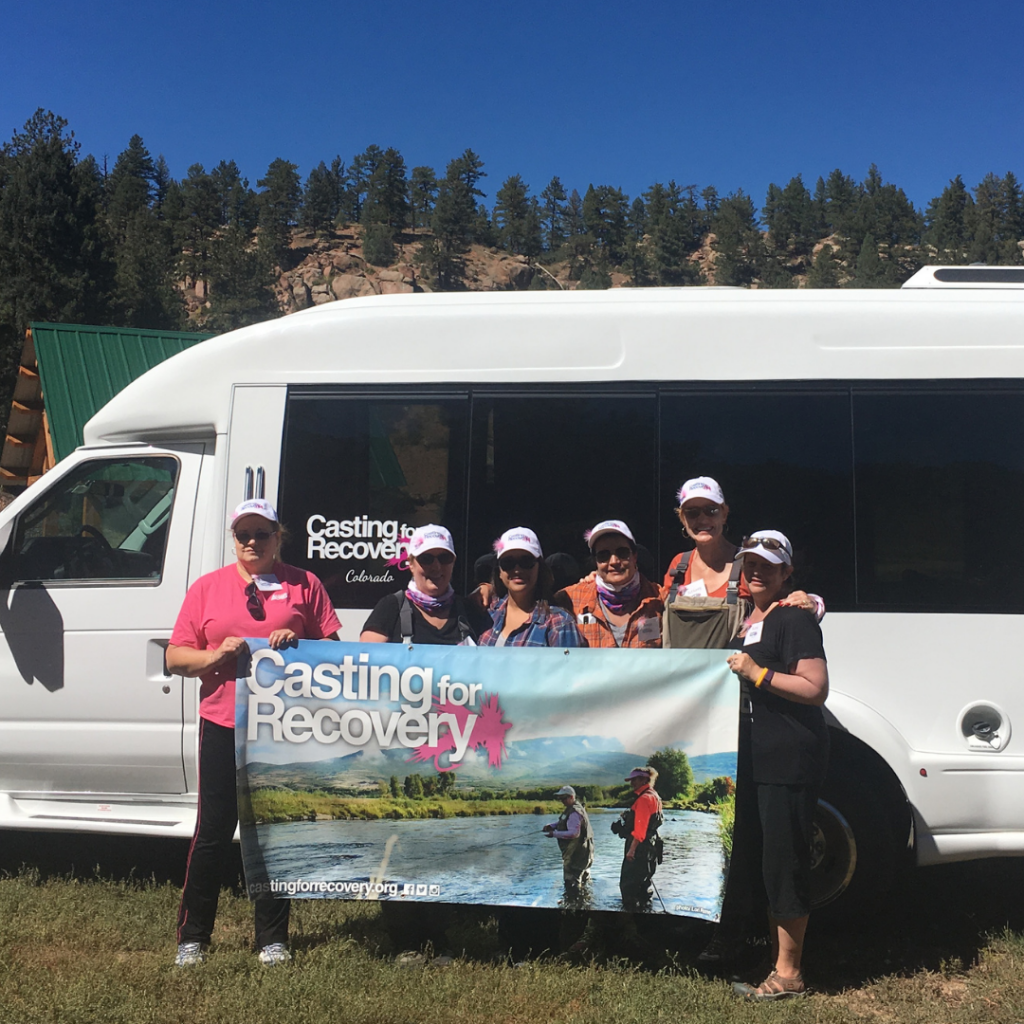 I moved to Colorado in 2013, and in early 2014 went to the Fly Fishing Show in Denver and met Peggy Stevinson and Marlene Collins of the Colorado program and signed up as a River Helper for that program. In all, I have been to 26 retreats – all of which I would pay to attend. The participants still inspire me to the point of goosebumps when hearing their stories each and every day.
What's your memorable experience (with a participant or at a CfR retreat) that stands out in your mind?
One of the early retreats I attended here in Colorado was at the North Fork Ranch. Typically, I am set up with another River Helper to assist the participant – which I love. Last year we were in the upper section of the river, and the participant hooked into a very large fish (large enough to make me understand while all of the guides carry such big nets there). It was a massive 9-pound rainbow that Sandy Roberts expertly landed. Biggest fish I've ever seen in the West.
What words of encouragement would you give to a breast cancer survivor who is hesitant about attending a Casting for Recovery retreat because they don't fly fish?
The great thing about CfR is that the overwhelming majority of participants have never fished. One of the many reasons that I fly fish is that it totally consumes your mind – totally. You're not sitting on the end of a dock waiting for a bobber to go under the water – you are constantly thinking – where is that fish looking? How do you cast it over there? More importantly, where are the trees that can steal your fly if one is not paying attention?
The sport takes you into full immersion – you can't half-ass this, not one bit. That is the lore and the lure of it. Standing next to a participant who has their first ever fish on a fly on the end of their line and feeling its every movement in the palm of their hand through the handle is what it's all about. That excitement, that smile, those screams! Truly an amazing experience.
Do you have a 'lucky' fly that you use on CfR retreat waters?
The Little Red River is not too far from where Suzy Ward lived in Arkansas. Cow Shoals is a great walk-in wading spot, and there is a little tiny wet-fly that is very successful there. Recent retreats have proven that this fly is successful in Colorado, too!