The Colorado program of Casting for Recovery began in 2003 with two retreats. To date, more than 400 women have attended one of the 29 Colorado breast cancer retreats. Our breast cancer retreats take women out of the clinical setting and into nature, where they can relax, share their cancer experience with other survivors, and learn the therapeutic sport of fly fishing. Our breast cancer retreats also include counseling and medical education and are provided at no cost to the participants. The CfR Colorado Program receives generous financial and volunteer support from many private individuals, fly-fishing clubs, businesses and foundations.
For 2017, three retreats will be held at the beautiful North Fork Ranch in Shawnee: June 2-4 ♦ September 8-10 ♦ October 6-8 Stage IV Metastatic. North Fork Ranch is hosted by ranch owners and long-time CfR supporters Dean and Karen May and the North Fork Guide Service owned by Jeff Poole. Located an hour southwest of Denver, North Fork Ranch sits at an elevation of 8100 ft. and adjoins the Pike National Forest, Lost Creek Wilderness, and Mt. Evans Wilderness. The 520-acre ranch rests along a pristine stretch of the North Fork of the South Platte River.
The September 23-24 retreat for women who reside in El Paso County will be held at the historic Cliff House in Manitou Springs. The Cliff House is nestled at the foot of America's Mountain; the historic Cliff House at Pikes Peak evokes an atmosphere of Victorian romance and opulence dating back nearly 150 years. From its storied start as a stagecoach stop to its turn-of-the-century prominence as the area's premier mineral resort, it remains the crown jewel of Manitou Springs. Stately and spellbinding, The Cliff House at Pikes Peak pairs the glamour of a bygone era with the modern-day style, sophistication and services worthy of its AAA Four Diamond status. Fly fishing is at Rainbow Falls Mountain Trout private fly fishing club. As Colorado's Oldest Trout Hatchery, Rainbow Falls Mountain Trout has been raising trout and stocking the lakes for over 136 years. With its 9 lakes, and nearly 1-mile of stream the possibilities are endless.
Visit us on Facebook!
2017 Retreat Calendar:
East of the Continental Divide
Colorado will have three retreats at the beautiful North Fork Ranch in Shawnee.
A new retreat has been established for breast cancer survivors residing in El Paso County, which will be held at the lovely Cliff House  in Manitou Springs (see below).
North Fork Ranch
June 2-4, 2017  
*Apply by March 24, 2017
North Fork Ranch, Shawnee, CO
September 8-10, 2017  
*Apply by June 30, 2017
North Fork Ranch, Shawnee, CO
October 4-6, 2017 – Stage IV distant metastatic breast cancer
*Apply by July 28, 2017
North Fork Ranch, Shawnee, CO
Women (living in CO) who now have Stage IV distant metastatic breast cancer and who previously attended a retreat may apply to this retreat.
The Cliff House
For women living in El Paso County:
September 23-24, 2017
*Apply by July 14, 2017
The Cliff House, Manitou Springs, CO
Southern CO Women
If you are a breast cancer survivor living in the San Luis Valley (the 6 southern counties of Alamosa, Conejos, Costilla, Rio Grande, Mineral and Saguache), you are eligible to apply for the New Mexico retreat as well.
The Retreat at Angel Fire, Angel Fire, New Mexico
September 29-October 1, 2017
Apply by July 21, 2017
Events
Colorado Gives Day!
Colorado Gives Day is an annual day of giving — a 24-hour opportunity to support Colorado non-profits and causes you believe in. The CfR Colorado Program is a featured charity again this year and we hope you will share this opportunity with friends and businesses who may wish to support our program and the Colorado breast cancers we serve! All donations go directly to support CfR Colorado retreats.
News
The Pink Ladies Night
Many thanks to everyone who donated, supported or participated in The Pink Ladies Night! It was a beautiful Colorado evening and more than 60 women attended the event which was hosted by Anne Dresser Kocur from Liv/Fuller Sotheby's International Realty DTC. The auction items included many artistic and hand-made items, gift certificates, wine, decorations and even a generous donation of a home cooked dinner for 8 in the home of Katie Williams, Managing Partner of Fuller Sotheby's International Realty DTC.
CfR Brand Video filmed at 2014 Colorado Retreat!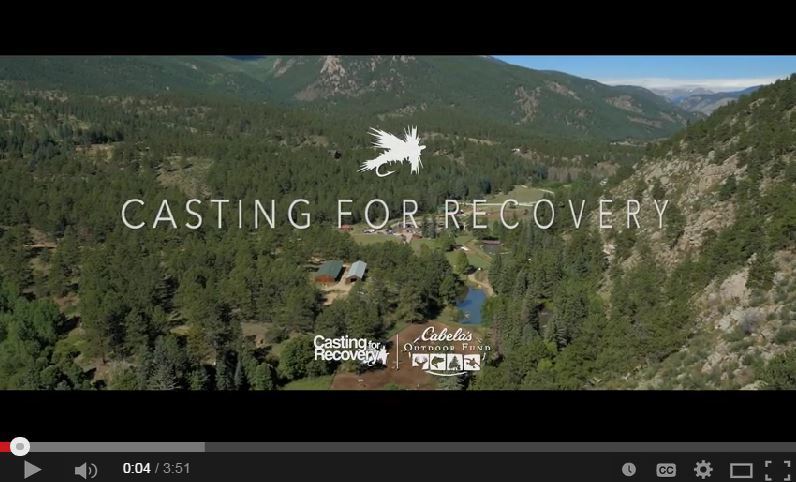 Have you ever wondered what goes on at a Casting for Recovery retreat? Well here's a little glimpse into what we do. Please watch. We're thrilled to kick off a national partnership with Cabela's Outdoor Fund. A huge thanks to Old Number Nine, North Fork Ranch and the generous team at Cabela's for capturing the magic of CfR so well.
Click here or on the image to see this amazing video filmed at the Sept. 2014 Colorado retreat!
View some of the videos from our 2013- 2014 retreats:
Labor Day Retreat, 2013. Video by Katie Roche. Music by the Beatles
May Retreat, 2014. Video by Katie Roche.
Catch us on NBC Nightly News and The TODAY Show! Casting for Recovery was proud to be featured in these national segments in August and October, 2015.
Casting for Recovery relies on the enthusiasm and support of its loyal volunteers to plan and staff our retreats, as well as conduct fundraising events. Volunteering will enrich your life and the lives of others with new hope, new skills. Click HERE for an application!