About CfR
Casting for Recovery (CfR) provides healing outdoor retreats for women with breast cancer, at no cost to the participants. CfR's retreats offer opportunities for women to find inspiration, discover renewed energy for life, and experience healing connections with other women and nature. The retreats are open to women with breast cancer of all ages, in all stages of treatment and recovery. For over 25 years, women from all walks of life have benefitted from CfR's inspiring program model.
Why fly fishing and breast cancer?
Our healing program is unique! For women who have had surgery or radiation as part of their breast cancer treatment, the gentle motion of fly casting can be good physical therapy for increasing mobility in the arm and upper body. Couple that with the emotional benefits of connecting with nature, and you've got powerful medicine. Our retreats are unconventional and described by many women as life-changing.
Fast Facts
Casting for Recovery provides free fly fishing retreats for women with breast cancer

70% of the women who attend Casting for Recovery retreats have never been to a support group

CfR currently offers 40+ retreats across the country, serving over 700 women each year. To date over 10,000 women with breast cancer have benefitted from the healing power of nature

CfR relies on the support of more than 1,800 volunteers nationwide, including medical and psychosocial professionals, fly fishing instructors and alumnae

CfR has inspired similar efforts in six countries outside of the U.S.
History
Casting for Recovery was founded in 1996 in Manchester, Vermont, by a breast reconstruction surgeon and a professional fly fisher. Awarded 501(c)(3) non-profit status in 1998, Casting for Recovery's innovative program focuses on improving quality of life for women with breast cancer, and has garnered endorsements from medical and psychosocial experts nationwide.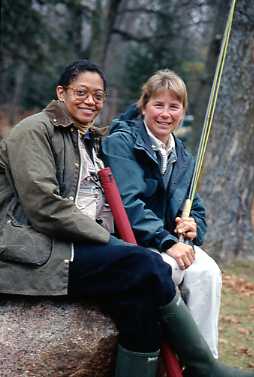 "This was a fantastic retreat. I feel so much calmer now and have a renewed spirit!"

"Words will never cover the depth of my gratitude for being able to participate in CfR and how much my life has changed. I love fishing! I love the adventures my new life has given me. I used to be afraid of dying. Now I realize I need to be more concerned with not living."

"You gave us a weekend that has changed our lives, and friendships that will last our lifetimes.   You are a catalyst and an inspiration for many positive things."

"I was able to attend Casting for Recovery a few years after completion of treatment. The opportunity to learn a new skill and interact with others that had also experienced Breast Cancer was amazing."

"The best part is that you get the chance to experience a new skill that provides a challenge and hope to move forward. I've thought numerous times about standing in that stream with my river guide trying to cast my line to catch the elusive fish, and the sheer awesomeness of it all. And that gives me hope."

"My experience was so wonderful. I still think about it often and get a wave of positive feelings every time I do! I now love fishing and go with my grandchild a few times every summer."

"I can still remember the laughter and tears I shared with my fellow breast cancer survivors...but mostly the laughter. Learning how to fly fish was a wonderful experience; I've even continued to try my hand at it. I cannot say enough about the caring and compassionate staff."

"The fishing was great, but the friendships we made and the long talks among all of us is something to remember."

"There is so much more to the CfR weekend than fishing.  Learning to fly fish was great--I'm looking forward to trout season already. But it couldn't touch the interaction of the women; lasting friendships were forged over those three days."

"My Casting for Recovery weekend was priceless. It helped me discover how to believe in tomorrow again. All the kindness, compassion, and warmth of the volunteers and participants has had a ripple effect to help me find hope and begin to heal inside and out."