Q & A – Jen Lofgren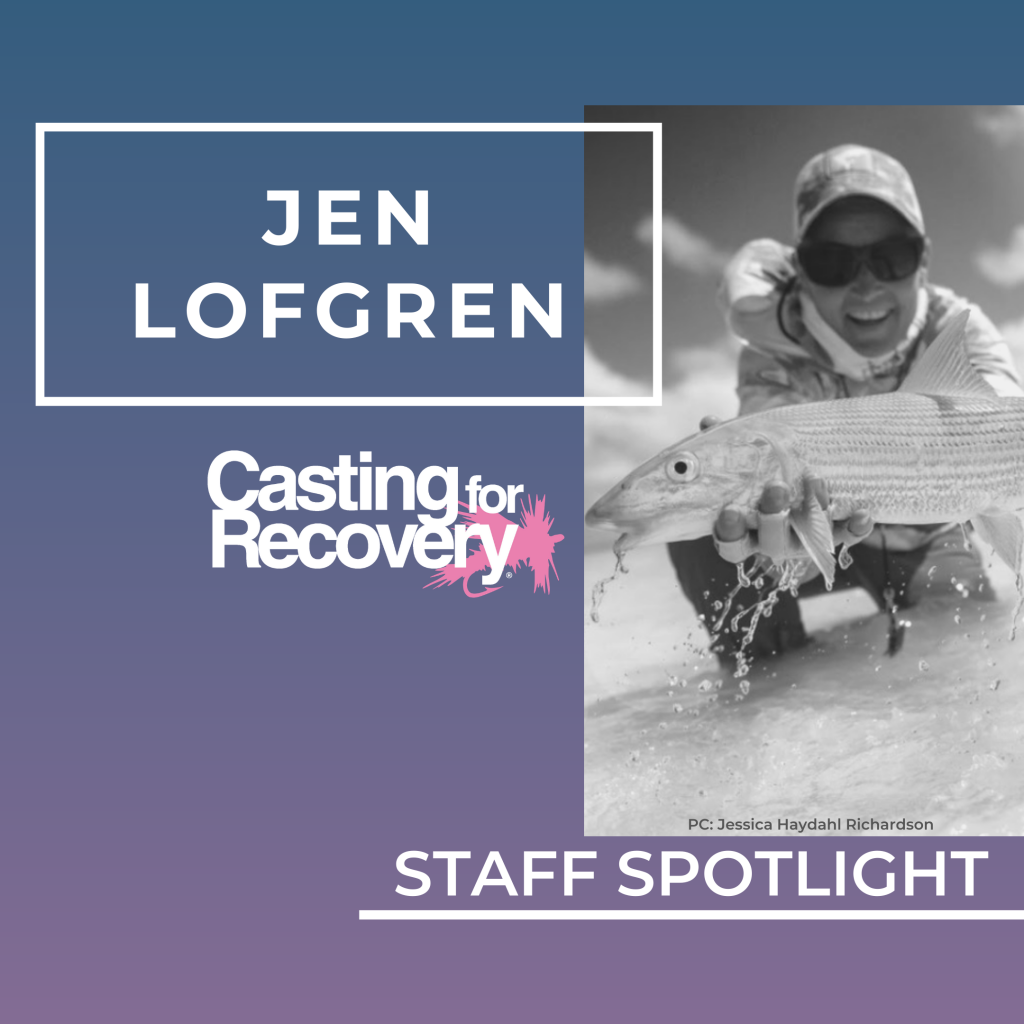 This week we asked Regional Program Manager, Jen Lofgren, questions that relate to her position here at Casting for Recovery. Learn more about Jen, how she discovered CfR and what she loves most about her job.
How did you come to work at CfR and how long have you been on staff?
I have been involved in the fly fishing/outdoor industry much of my adult life, including managing an Orvis store in Denver for almost 10 years, which is where I first learned about Casting for Recovery. I began volunteering for the Colorado program in 2012 and fell in love with the organization and its mission. When a position became available to work for the national staff in the spring of 2018, I jumped at the opportunity.
What is your current role at CfR and describe your main responsibilities?
As Regional Program Manager, I oversee the programs in the western United States. I support the teams with whatever they need – retreat preparation, recruiting/training/vetting volunteers, succession planning, budgets, fundraising, planning special events, etc.  Anything that I can do to help support all of the great work that they are doing.
What's a typical day like at CfR for you?
I like to say that each day is like a unique snowflake – no day is exactly the same, and for me that's a good thing.
What do you love about your job? Why is that a good fit for you?
I really do feel like I am the luckiest person in the world to work for this organization.
I am surrounded by the most incredible people – my co-workers are the hardest working, smartest, funniest, kindest people I have ever had the pleasure of working with, and we have amazing volunteers, supporters, board members – all committed to ensuring that women with breast cancer have an opportunity to attend one of our life-changing retreats.
I love sharing my passion for fly fishing and love of the outdoors with others, and this is the perfect avenue for me to do it.
Have you ever attended a retreat and if so, in what capacity?
I have been fortunate enough to attend many retreats over the years, mostly as a fly fishing instructor for the Colorado program. Last year I was lucky enough to attend the Wyoming retreat as well as help launch the new Kenai, Alaska retreat.
One thing you'd like the world to know about CfR that they may not already know?
In 2021 we will celebrate 25 years of serving women with breast cancer!
Encouraging words for a breast cancer survivor?
As a dear friend of mine says: "it's a club you never wanted to be a part of…" but there is a tremendous amount of love and support to be had when you share this journey with others who are on a similar path. I encourage anyone who hasn't attended one of our retreats to apply for one – it truly is a life-changing experience.