From the Riffle – Seline Skoug
This week we are excited to post a From the Riffle submission. Each month, Casting for Recovery will feature a guest blogger that will share information on who they are, their "home waters" where they fish, how they are connected to CfR and where they would like to see the organization in the next 25 years. We recently connected with Seline Skoug, CfR's very first Executive Director. Read more as Seline discusses her "home waters", and explains her longtime connection and appreciation of CfR.
—
Fly fishing restores my energy, allows me to be in the moment. My "home water" is where I find myself connecting with the environment on whatever water. I grew up fishing spin in saltwater and in ponds on Long Island and Maine, catching flounder, eels and sand sharks…ewww. Around the age of 10, my (Norwegian) father introduced me to fly fishing for trout and salmon in Norway and also New Hampshire. In upstate NY, my step grandfather (who wrote Drums Along the Mohawk and had a family farm in Booneville) let me cast one of his bamboo fly rods-which was awesome, but then a few days later, I was casting in the house and hooked the back of my step grandmothers dress-oops. After that I stuck to fishing the Black river and ponds at the farm! I still have his old fly boxes filled with flies. For almost 20 years though, I've lived across the street from the Battenkill River in Vermont and I call this my home. Being co-owner of the first all foam fly box company, the Morell box, it brought me to many places of fishing wonder and even though I've had the wonderful opportunity to fish around the country, I still harken back to the joys of New England fishing.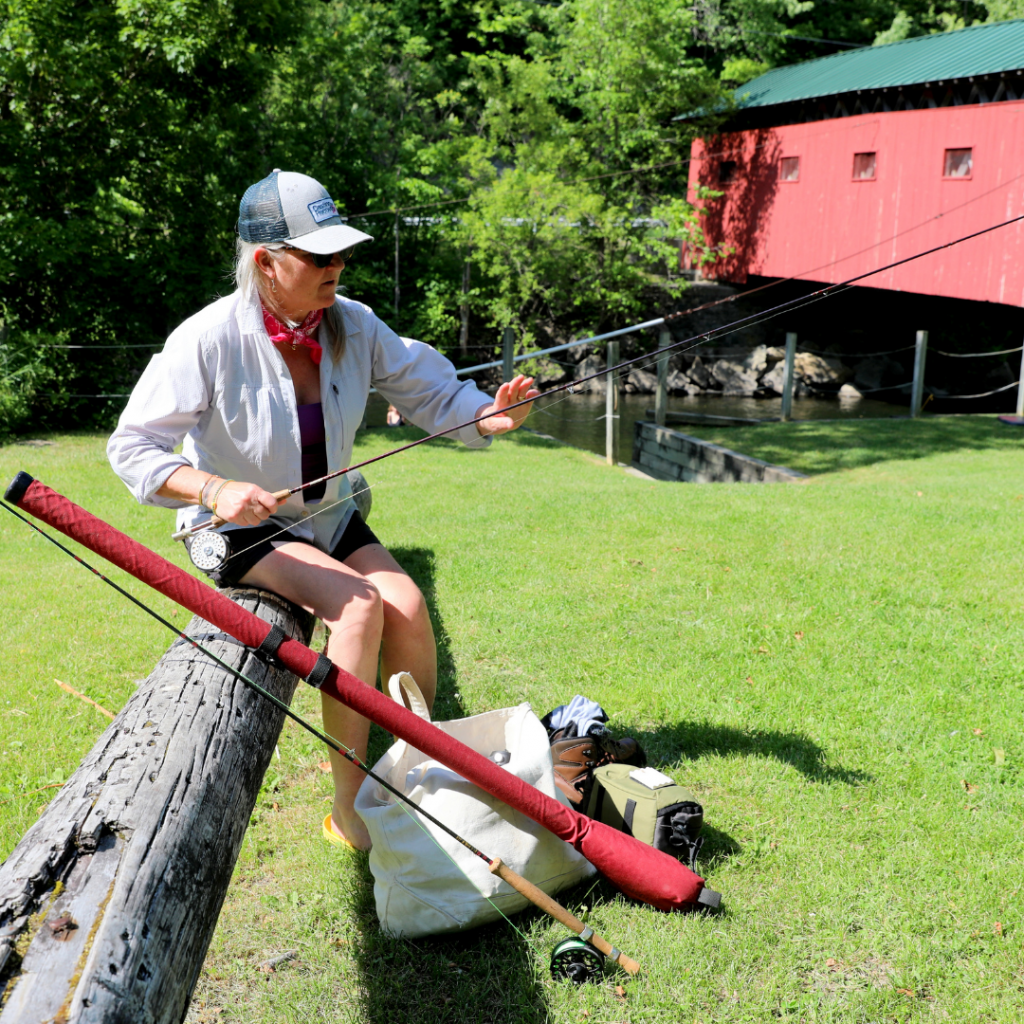 CfR has so many ways of bringing people together. My story is one of them. In 1996, my mother died of breast cancer and just prior to her diagnosis had started to fly fish. Then in 1997, I was seeking an internship project for my graduate healthcare degree (but not in a hospital). Having known Susan Balch, who was on the board at the time and who I've fished with since the mid 90's, she introduced me to her fellow board members at CfR. I thought wow, CfR could be a significant force in the health and well being for breast cancer survivors, (especially having seen the impact fly fishing had on my mother a year earlier).The stars were aligning. I asked the board if they would embrace me as an intern to help develop the program.  They welcomed me with open arms, so I joined the board and they let me loose to build on the weekend criteria and expand the programs. In the meantime, I had convinced the program director at the Simmons Graduate school of health studies that fly fishing was a healing sport both mentally and physically for breast cancer survivors! CfR was my capstone presentation. In 1999, Susan Balch and I, with the board's blessing, left the board, Susan became Program Director and I became the Executive Director. Over 10 years, we worked with hundreds of volunteers and organizations to build the organization into a national program (with programs also in Canada, UK/Ireland and NZ).  To this day, the energy, dedication and commitment to help bring the CfR program to breast cancer survivors is as strong as ever. I continue to volunteer for the Vermont retreat (and others if I can) and will always be humbled by the strength and grace the participants have as well as cherish the many lifelong friendships I've made along the way. For this I am grateful.
So, last weekend, a neighbors brother in law (from Maryland, who've I've never met) came running over to my house, while I was standing in the yard to thank me for CfR and tell me how much the program meant to him. I was like "wow, no kidding and thank you". CfR impacts so many along the way-men, women, children, families. By helping one, we help others. But these quote(s) say it all.   
"I have never participated in group therapy before. I have never been comfortable with sharing my inner emotions openly with strangers. Amazingly enough I was able to open my heart to all of you. Thank you, you have healed my soul."
Nora, Virginia Retreat
OR
Making Peace
I hate having cancer. I hate what is has done to my body and my life. I don't talk about it. It was a struggle for me to come here. And yet- Here I have seen such beautiful, quirky, strong, funny, warm, smart, wonderful people. Women-like me-who have breast cancer. Women who are so fully alive. And I realize- This is a sorority I never wanted to join. And yet- With all my heart- I'm proud to be a member. Thank you.
Karen, Skytop, PA retreat
In the next 25 years, I would like to see CfR continue to do what it's doing with the same vibrance and energy the programs have had for 25 years. Seeing CfR serve diverse populations is so important too as they can be significantly affected by breast cancer and may have less access to healthcare than others. The prevalence of breast cancer continues to be 1 in 8, but as we fight the battle, I'd love to see CfR supported by even more local and national businesses and individuals to sustain and expand its programs nationwide. CfR is one of the few organizations in this country leading local programs with volunteers with the important support of a national office. The impact the CfR program has on the participants and the ripple effect it has on their families, friends and coworkers is tremendous and generational. One man emailed me after his wife attended a retreat, something like-I'm forever grateful for CfR, when my wife got home from the retreat, my grandkids jumped on her lap and said yay, grandma is happy again. I'll never forget that.  
As Dr. Susan Love wrote to me many years ago "As a fly fisherwoman, fly tier and breast cancer expert, I heartily support Casting for Recovery as one of the best programs for breast cancer survivors that I know".
CfR will always be in my heart.